From 18:00 Jan 23 to 00:00 Jan 24 NY Time (6 hrs), Grifkuba sites will experience flaky behavior, including short periods of downtime. Reading and light edits should be fine, but save all work and avoid heavy edits.
Present
From Jiggywikki, a Banjo-Kazooie wiki
Jump to navigation
Jump to search
It has been requested that one or more images be uploaded and added to this article. Remove this template once the image(s) has/have been uploaded and applied.
Specifics: Talking icons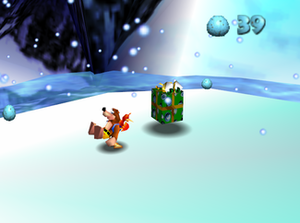 Presents are items that appear in the world Freezeezy Peak of Banjo-Kazooie. They are gifts that Boggy got for his kids, Moggy, Soggy, and Groggy. However, the Presents were lost and scattered in the world. Banjo and Kazooie can recover then return the Presents to Boggy's Igloo to earn a Jiggy.
The first present is hidden on a glacier floating around the freezing lake, the second one is on top of the large Snowman, and the last one is hiding in a Christmas tree.