Ticker's Tower
From Jiggywikki, a Banjo-Kazooie wiki
Jump to navigation
Jump to search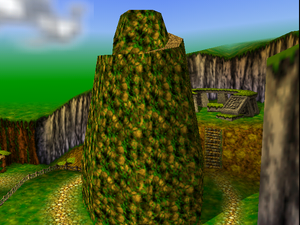 Ticker's Tower is a large mound inhabited by Tickers, located within Mumbo's Mountain in Banjo-Tooie. After being transformed into a termite by Mumbo Jumbo, Banjo can climb the Ticker's Tower to collect the Musical Notes inside and Jiggy and Extra Life atop.
The music that plays inside Ticker's Tower is the beta theme for Mumbo's Mountain.[1] It was based off on Henry Mancini's Baby Elephant Walk.
It is also possible to climb the Ticker's Tower without being transformed, although this trick can be hard to perform.
References
[
edit
]