From 18:00 Jan 23 to 00:00 Jan 24 NY Time (6 hrs), Grifkuba sites will experience flaky behavior, including short periods of downtime. Reading and light edits should be fine, but save all work and avoid heavy edits.
Banjo-Kazooie: The Soundtrack
From Jiggywikki, a Banjo-Kazooie wiki
Jump to navigation
Jump to search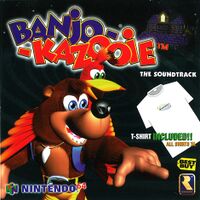 Banjo-Kazooie: The Soundtrack is the official soundtrack album for Banjo-Kazooie. It was originally only available for Nintendo Power subscribers as Vol. 9 in the Nintendo 64 Sound series, but was later sold at Best Buy alongside the regular game. "Banjo Overture" and "Squirrel," the last two tracks, are only featured in the Nintendo Power release.
Track listing
[
edit
]
| # | Title | Length | Composer |
| --- | --- | --- | --- |
| 1 | Main Theme | 1:09 | Grant Kirkhope |
| 2 | Spiral Mountain | 2:23 | Grant Kirkhope |
| 3 | Witch's Lair | 4:11 | Grant Kirkhope |
| 4 | Mumbo's Mountain | 4:25 | Grant Kirkhope |
| 5 | Treasure Trove Cove | 4:12 | Grant Kirkhope |
| 6 | Clanker's Cavern (Exterior) | 4:14 | Grant Kirkhope |
| 7 | Bubblegloop Swamp | 4:25 | Grant Kirkhope |
| 8 | Freezeezy Peak | 4:17 | Grant Kirkhope |
| 9 | Gobi's Valley | 4:29 | Grant Kirkhope |
| 10 | Mad Monster Mansion (Exterior) | 4:19 | Grant Kirkhope |
| 11 | Rusty Bucket Bay (Exterior) | 3:59 | Grant Kirkhope |
| 12 | Click Clock Wood (Spring) | 4:59 | Grant Kirkhope |
| 13 | Quiz | 4:33 | Grant Kirkhope |
| 14 | Credits | 3:54 | Grant Kirkhope |
| 15 | Final Battle | 6:16 | Grant Kirkhope |
| 16 | Banjo Overture | 3:33 | Grant Kirkhope |
| 17 | Squirrel | 4:00 | Grant Kirkhope |