Rusty Bucket
From Jiggywikki, a Banjo-Kazooie wiki
Jump to navigation
Jump to search
The Rusty Bucket is a large cargo ship owned by Gruntilda,[1][2] being the namesake of Rusty Bucket Bay. It contains many rooms, such as the Engine Room, the Anchor Room, the Hold, the Captain's Cabin, the Map Room, the Shipmate's Quarters and the Galley.
History
[
edit
]
Banjo-Kazooie

[

edit

]
In Banjo-Kazooie, the Rusty Bucket can be found in Rusty Bucket Bay. Many Jiggies can be collected through it, such as the one atop the ship's highest point, the one collected by blowing the right whistles in it or many of the ones found within its individual rooms. Various enemies can also be found throughout the ship, such as the Grimlets, Flotsams, Seamen Grublins, Boom Boxes and Grille Chompas.
A dolphin named Snorkel can be found trapped under the ship's anchor, and saving him rewards Banjo and Kazooie with a Jiggy. Boss Boom Box can also be fought inside of the ship's rooms, accessible by dropping a TNT box on the it.
Banjo-Kazooie: Nuts & Bolts

[

edit

]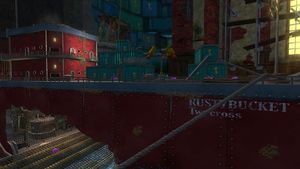 "This ship was the basis for an entire Banjo-Kazooie level, Rusty Bucket Bay. The Jiggy in the bowels was one of the most difficult in the game. Far too challenging for today's soft gamers!"
In Banjo-Kazooie: Nuts & Bolts, the Rusty Bucket appears as an exhibit of Banjoland. It is fairly damaged, containing a large hole in it that leads to what is presumably the Engine Room. This is often used as a path in many of the park's races.
Names in other languages
[
edit
]
| Language | Name | Meaning |
| --- | --- | --- |
| Spanish | El Cubo Oxidado | The Rusty Bucket |