L.O.G.'s Lost Challenges
From Jiggywikki, a Banjo-Kazooie wiki
Jump to navigation
Jump to search
L.O.G.'s Lost Challenges is a DLC Game World in Banjo-Kazooie: Nuts & Bolts, released on April 7th, 2009 for 400 Microsoft Points. It takes place in the Test-o-Track, and reuses many assets from the regular game such as character costumes.
L.O.G.'s Lost Challenges works differently from other Game Worlds. In it, collected Jiggies do not go to a Jig-O-Vend outside the Act Door but instead are added to a large Jiggy board in the Game World. To fill the board, each challenge needs to be played twice: once in a pre-made vehicle and once in a custom vehicle, as the Jiggies placed by only beating the L.O.G.'s Choice versions are black and white and need to be colored by beating the Player's Choice version which are harder. Collecting every black and white Jiggy adds concept art for the game to the gallery in the pause menu that can only be seen while in the Game World, while completely filling the entire board with colored Jiggies unlocks more concept art, that works the same way, and allows Klungo's newest game, Hero Klungo Sssavesss Teh Universsse, to be played by talking to him.
T.T. Trophies in L.O.G.'s Lost Challenges don't serve any purpose as they don't add any Jiggies to Trophy Thomas' Jig-O-Vend in Showdown Town. Collecting them all, however, makes T.T.'s house gold, which is purely cosmetic and also serves no purpose.
Starring
[
edit
]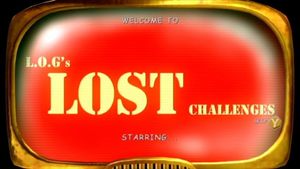 Big Rimmed Race Off
L.O.G.'s Choice/Player's Choice
Game Host: Mumbo Jumbo
Test your vehicle handling against rival monster truck racers! The wheels are huge and the competition heavy, but only first place will do.
Ben Hurdle
L.O.G.'s Choice/Player's Choice
Game Host: Humba Wumba
Tally ho! Conquer the gymkhana course in your best time, and try not to hit the bystanders. Will it be the final hurdle for Banjo?
Glossy Gaffes
L.O.G.'s Choice/Player's Choice
Game Host: Bottles
The Test-o-Track looks dreary and in need of some inspirational color. Deliver the required pots of paint to the alleged decorating experts.
Car Park Cavalcade
L.O.G.'s Choice/Player's Choice
Game Host: Jolly Dodger
King Jingaling is paying a rare visit. Don't bring the procession to a grinding halt! Score points by standing within the moving area.
Several Sized Sumo
L.O.G.'s Choice/Player's Choice
Game Host: Pikelet
Teach your opponent the meaning of humility by pushing him out of multiple sumo arenas. First to claim three rounds takes the title!
Hoop Scoop
L.O.G.'s Choice/Player's Choice
Game Host: Mr. Fit
It's the latest in a string of unusual fitness challenges. Transport the ball through the scoring hoops to rack up maximum points.
The introduction sequence of L.O.G.'s Lost Challenges is a parody of The A-Team.
It is possible that Humba Wumba's challenge was originally designed for the cut Weird West Game World, as she mentions it is a "beta" challenge and it has Western-themed vehicle.
Achievements
[
edit
]
Alongside L.O.G.'s Lost Challenges, ten additional Achievements worth 250 Gamerscore altogether were added.
| Icon | Achievement | Summary | Gamerscore |
| --- | --- | --- | --- |
| | Pointless Achievement | Find the L.O.G. Lost Challenges Door | 5 |
| | Crowd Pleaser | Knock down all the Supporting Cast in Ben Hurdle. | 20 |
| | Wheels on Fire | Burn an opponents's vehicle, until it falls apart at the seems. | 20 |
| | Halfway Home | Complete all of L.O.G.'s lost challenges once. | 15 |
| | Ultimate - Played the Game | Show Sssuper Klungo the real meaning of sssuper. | 50 |
| | Paint the Town Gold | Complete all of L.O.G.'s lost challenges to TT standard. | 40 |
| | Sssave The Universsse! | Complete all Lost Challenges in L.O.G.'s Choice and Player's Choice vehicles | 30 |
| | Old Ssskool Ssseekrit Area | Klungo not ssstupid, usse old fake wall trick to hide Klungo goodnesss | 20 |
| | L.O.G. Ranked Apprentice | Win one of the new DLC multiplayer games in a ranked match | 20 |
| | L.O.G. Master | Win all of the new DLC multiplayer games | 30 |
Names in other languages
[
edit
]
| Language | Name | Meaning |
| --- | --- | --- |
| Italian | Le sfide perdute di LOG | LOG's Lost Challenges |
| Japanese | ログのおまけチャレンジ | L.O.G.'s Addition Challenges |
| Portuguese | Desafios perdidos | Lost challenges |
| Spanish | Los Desafíos Perdidos de S.J. | L.O.G.'s Lost Challenges |